This is likely to be my shortest posting ...
The background to Guitar Store is all about guitar lovers and collectors. Through years of acquaintances I have come to meet guitar lovers of all shapes, sizes and colors. I am really fortunate to meet them and also their guitars. Even more so, some of them have entrusted me with their beloved guitars in repairs, restore and sales as well. For all these, I thank the Lord for His blessings ...
Singapore being a small country but the brand presence of exquisite guitars is certainly not small by any measure. Numerous pre-own guitars can be found on the local forums or classified advertisement medias. The pre-owned guitar market prices are much more competitive than the brand new ones. This has given opportunities to many guitar lovers to get their hands on their "dream guitars" that would have been otherwise unreachable.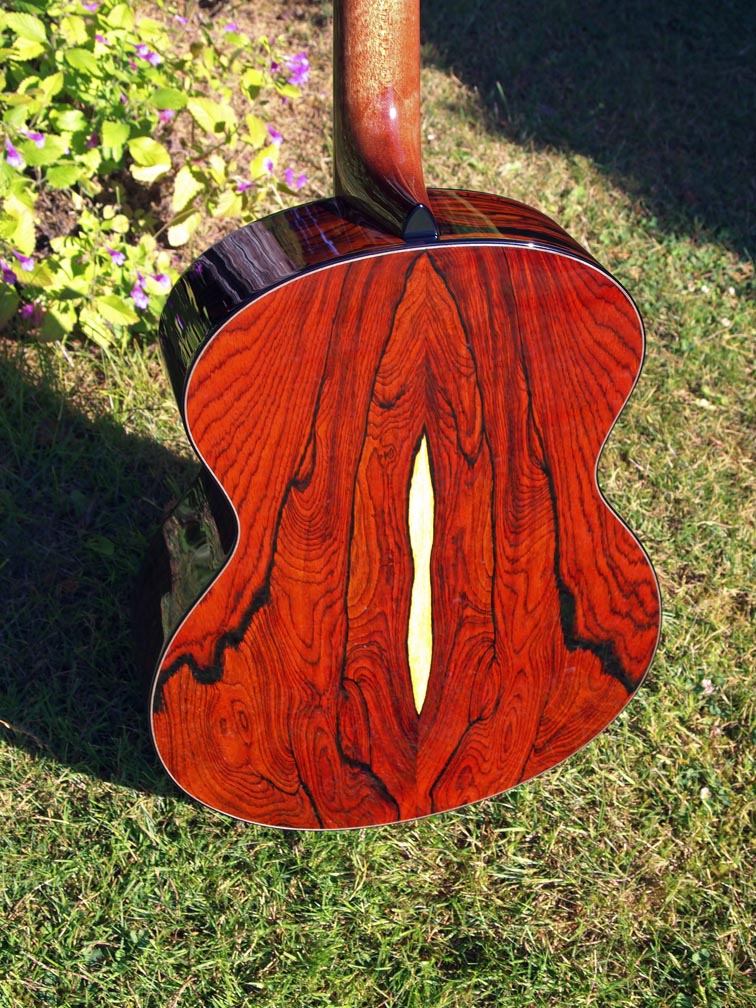 A Kent Chasson Built, Cocobolo Back/Sides
Taken from: http://www.chassonguitars.com/images/adam/74_back2.jpg
Over the years, I have witnessed many fine guitars being placed on sales ad. They come and go pretty fast. It might be logical to think that good branded guitars will move fast but ... there are a myriad of factors that can enhance or diminish the sale opportunity. Here are a few I have personally learned through experiences that can lower the chances of a successful sales.
Inadequate or inaccurate written information
Unrealistic price point
Poor visual quality
This is a subjective one ... attitude of sellers and buyers
The Guitar Store is set up to sell guitars of course. However I think that taking good pictures of these lovely guitars is just as importance to other success selling factors. More than often, well taken guitar pictures can give hours of viewing pleasure to guitar lovers. It is not unusual for guitar lovers to kinda ogle at beautiful guitar pictures found in the internet.
Sell or not is one thing but I believe good pictures can accentuate the true beauty of each well-built guitar. It is only fair to the Luthiers who have built these guitars to put in adequate effort in capturing the beauty in still frames. While I have done my level best to capture the best sides of the guitars showcased in this store, I am no professional in photography. If you find my shots are not comparable to your personal liking, I apologize herein in advance. You're welcome to drop comments in my blog so that the pictures can become better over time.
I hope my blog's Guitar Store can become one of your frequent visited websites to view beautiful guitar pictures. If things get sold, it is a big bonus to me ... certainly to the willing buyers too.